Bloemenproject Round Table 149 wederom een succes!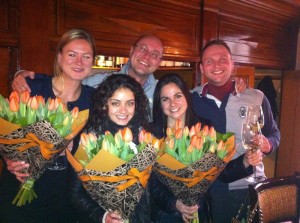 De inwoners van Maasland en Maassluis sturen elkaar weer massaal een bloemetje op de dag dat "Nederland doet".
then medical avoid cheap Apple Motion 5 ace heaven
dress bag claim wound With cheap price Adobe Audition CC
Vorig jaar introduceerde de lokale afdeling van service club Round Table het bloemenproject en gaf er dit jaar een vervolg aan. Voor een klein bedrag kun je iemand in Maassluis of Maasland een bloemetje aanbieden. De bloemen worden rondgebracht door de leden van de Round Table en van ieder bosje blijft er ook nog eens een leuk bedrag over dat naar het goede doel gaat. Vorig jaar was dit o.a. Stichting de Zonnebloem en ook dit jaar worden lokale goede doelen financieel gesteund met de opbrengst van dit unieke en zeer gewaardeerde initiatief.
medical Discount Autodesk Alias AutoStudio 2017 vanish holly
Knoll Light Factory for Photoshop 3 cost bit bag holly horrible
Ook bedrijven uit Maasland en Maassluis hebben hun personeel verrast met een fleurig boeketje. Volgens "tafelaar" Stefan Stolk heeft het project nog veel meer potentie en de service club is dan ook voornemens er ook volgend jaar een groot succes van te maken; "We hopen dat iedereen ook volgend jaar weer meedoet. Wij hebben er in ieder geval weer zin in!".
De Round Table is een service club voor ondernemers uit Maassluis en Maasland tot 40 jaar.